Aloha! On June 8, 2008, my father George, my mother's sister Elizabeth and your's truly left on a three week trip to Hawaii. A little background on this trip might be in order...
When my mother was diagnosed with cancer back in 2001, her immediate wish was that when the time came, she wanted to have her ashes scattered off the Kona coast on the Big Island of Hawaii. She made my father and I promise to do this, and then to have a holiday ourselves when the task was done. The Kona coast was her favorite holiday destination since she so enjoyed the scenery, the flowers and birds, and the friendly locals. In the last few years especially, my aunt Elizabeth was always extraordinarily helpful and she started bringing meals that she cooked, several times a week, so that my mother did not have to struggle in the kitchen as her condition worsened. Before my mother passed away (on April 7th), she requested that we take her sister with us to Hawaii as well, since she really deserved a holiday too! So this is the blog for that trip... here we go:
---
Day 22 - The trip home...
(June 29, 2008)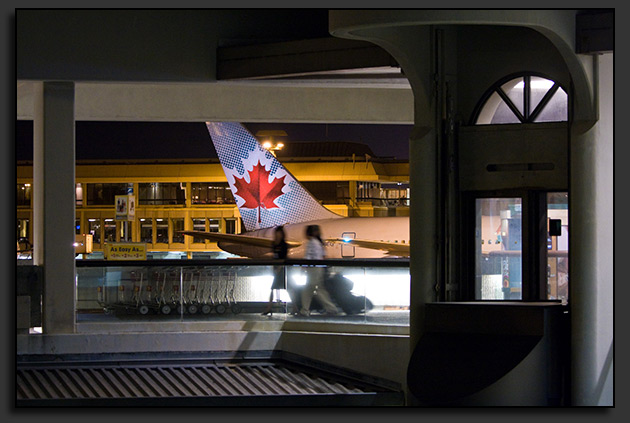 Our Air Canada plane in Honolulu...
So that is it - the final entry in this blog, over a week late - sorry! A handful of images of birds on our lanai in Kauai and a few shots at night from the Honolulu airport, that is all there will be to see. Here you go:
Photo Gallery: Day 22 - Final Day & Flight
The trip home was long but uneventful. Look for a "Best of Hawaii 2008" gallery in the next few weeks as I distill all those photos down into a more easy to view gallery with well under 100 photos. Currently, the 21 blog photo galleries total to 428 images!
Again... thanks for watching & reading! Until the next time...
Day 21 - More Splashes, More Turtles
(June 28, 2008)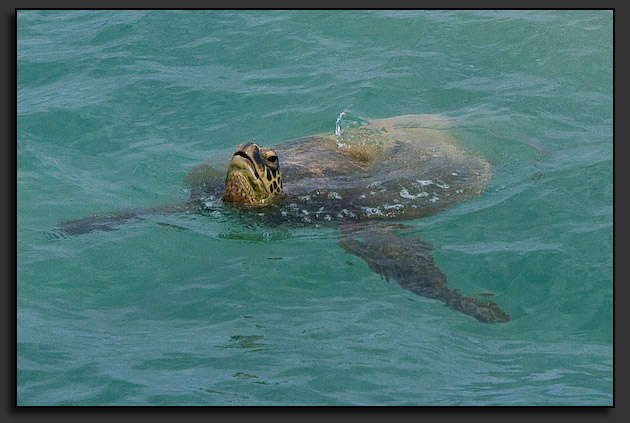 Green Sea Turtle
Well, that was it, the last full day of our trip. Tomorrow we have maybe four hours between checkout and when we need to drop off the rental car and catch our flight. Today was a very relaxed day, a lazy morning on our lanai, a short drive to Koloa where I hiked down to the same spot as yesterday's blog photo and caught a few nice waves splashing over. It was windy, so my camera gear got covered in fine salt spray, which I cleaned off this evening. After the splash photos, I spent some time with my father and aunt, who had stayed at the "turtle beach" a km or so to the west of where I had hiked to, and photographed some more sea turtles - and watched some nice waves rolling in and crashing on the shore. After, we drove back into Koloa to the shaved-ice place and cooled off. I suggested we try to have dinner at Brennecke's Beach Broiler so I made a reservation for the three of us for 5pm. Back to the Spouting Horn for an hour, then back for dinner. Although expensive, the dinner was absolutely first class - highly recommended! Here are today's photos...
Photo Gallery: Day 21 - More Splashes, More Turtles
Not sure what we will do tomorrow... if we can arrange for a late checkout, we might just kick back at the hotel and enjoy the last few hours here in a relaxed fashion. Then the late night flight back to Vancouver - we are due to arrive at 6:50 am! Monday will be sleeping, doing laundry and trying to acclimatize back to Vancouver's weather! Luckily Tuesday is a holiday, so I'll be able to do some final work on my blog and continue sorting through photos from the trip.
This will be the last update on the road, so I'll be seeing you all soon. Thanks for following along!
Day 20 - Birds, Seal, Turtles and Waves
(June 27, 2008)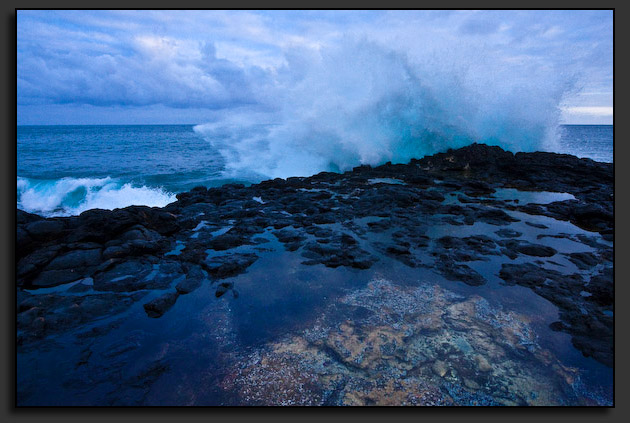 Big Splash
This morning I decided to photograph our daily breakfast guests - always very polite, well mannered, well dressed and punctual! After, I noticed that once again, the young Monk Seal was back on our beach. Off I went to take a few more photosof it and today it was a little more lively at least! Then it was down to Shipwreck Beach, where I heard that sea turtle sightings were fairly common. Although very elusive, I did manage to snap a few photos. On the way out to the beach, I saw a fairly large eel in a tide pool. After photographing it, I took a shot of my father and aunt photographing the same eel. Then after the turtles, it was off to the beach west of the Spouting Horn. Although there was some impressive wave action, the sun did not make a showing - the above photo was taken shortly after sunset. Here are the photos...
Photo Gallery: Day 20 - Birds, Seal, Turtles and Waves
Tomorrow is our last full day in Hawaii already! I am not sure what we will be doing but hopefully the weather will at least cooperate on the last day...
Day 19 - Monk Seals, `Opaeka`a Falls and not the Spouting Horn
(June 26, 2008)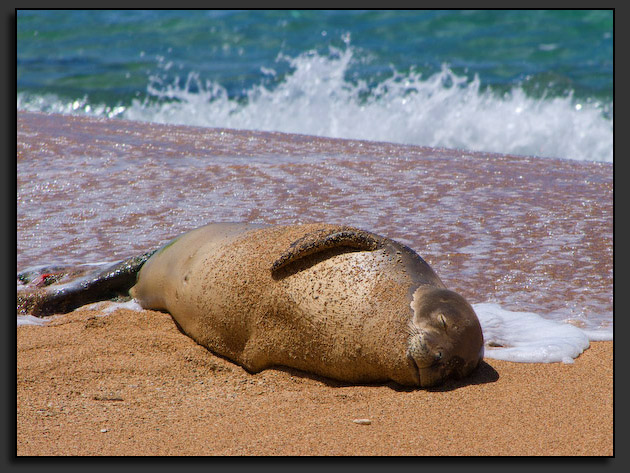 Monk Seal sunbathing
This morning, I was wondering what all the yellow "police-tape" was doing around the sandy beach at our hotel/condo. Well, it turns out there were a couple of endangered Hawaiian Monk Seals sunbathing on our beach! The one pictured above is an 8-month old female pup and the other one in the gallery is likely its mother, according to a knowledgeable local. The mother left after a couple of hours of sun today, but the pup... talk about endurance. We left for a while and came back around 3pm and it was still lying on the beach in the heat - it had only shifted around a few times!
After the seal photos, there is one shot of our condo - our room is the middle floor on the very right of the building in the center. Then comes a photo of the official bird of Kauai... the chicken. Well okay, not really official, but it should be since they are everywhere! Everywhere you turn, on the beach, in the bush, on the Safeway and Wal-Mart parking lots... even on our rental car pickup lot! And the stupid roosters crow all day long. A massive hurricane in 1992 blew cooped up chickens all over the island and they are now breeding like rabbits! With no natural enemies here, they have an easy life. Withour further delay, here is the gallery:
Photo Gallery: Day 19 - Monk Seals, `Opaeka`a Falls and Ocean
After the falls and hibiscus bloom shots, there are a couple of sea-turtle shots. Okay... really lame I know, but they are very hard to capture, only popping up for air for a few seconds at a time and then they are gone and swimming underwater for many minutes, never coming up in the same place. The spouting blow-hole shots at the end are not the Spouting Horn, rather a smaller and more erratic spout between the sea-turtle beach and the Horn. I spied it from a distance and decided to hike to the spot. Just a little earlier would have meant more light on the plumes, but still it was interesting to see - and no annoying signs warning to stay away! I was standing right next to the blow-hole and watched the spouts rise about 20 feet into the air. I only got a little wet, honest...
Day 18 - Wailua Falls, Shave Ice and Spouting Horn
(June 25, 2008)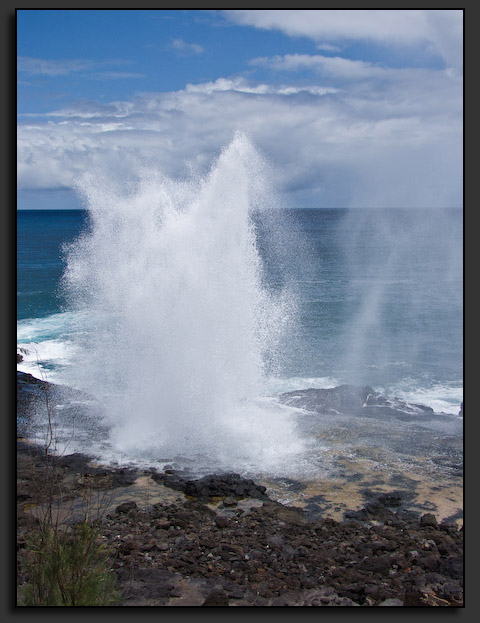 Spouting Horn
Today was cut short by some major clouds and rain showers. In the morning, we went to Wailua Falls and waited, and waited, and waited for the sun to really come out but it never did. After an hour of increasing clouds, we decided to head off and try again at a later date.
Next, we decided to visit Spouting Horn again and on the way, I did a hard left into a Shave Ice place. The one photo of it also shows the big blue Dodge Charger we are driving. It has a 250hp V6 complete with a nice throaty exhaust sound. Fun to drive (nothing beats a powerful rear-wheel drive car, except maybe a well setup AWD), although the steering is pretty darn numb and the damn thing has no ground-clearance to speak of. The PT Cruiser we had on the Big Island actually had much better "road-feel" although the four-banger certainly was not as smooth and always felt like it was working much harder. Plus, I hate front-wheel-drive torque-steer. Anyway, my father and aunt had to endure me "charging" the big Dodge around a particularly fun and twisty section of road to Waimea Canyon the other day. After getting enthusiastic enough that I started squealing the tires while accelerating out of a few tight corners I decided I had better ease off a little and not scare the living daylights out of my passengers! They actually took it surprisingly well.... but I digress - back to the topic at hand! Well, maybe the few measly photos from today first:
Photo Gallery: Day 18 - Wailua Falls, Shave Ice and the Horn
Properly done shave-ice is really amazing, like the finest imaginable powdered snow, packed together and saturated with flavourings. I had their "Aloha Special" which was a ball of Macadamia nut ice-cream with a big mount of shave ice on top - I chose passion-fruit and lime as my two flavours. Yum!
There was someone at the Spouting Horn today who decided, for whatever symbolic reason, to throw a Lei into the blow-hole. I took some video (with sound) of him. By the way, some of you might not be able to view these video clips as they are encoded as MPEG-4 files. You may need an updated version of Quicktime. In any case, here it is:
Video (2.0MB): Lei into the Horn
While I'm on the topic of video clips, here is another from yesterday, stitched together from 40D stills:
Video (0.6MB): Spouting Horn Rainbow
After catching a glimpse of a sea-turtle just off the Horn, when I unfortunately had my wide-angle lens mounted, I put my on my long zoom and waited for it to poke its head up again. I waited. I waited some more. Still more waiting. La la la... la la la... okay fine - enough waiting. Put the camera away and lets move on. Of course you know what happened then... there's the turtle again. I figured by the time I got my camera and zoom out again it would be gone. So there it was... still there... floating in the waves... still there. And still it's there! Damn - would have had plenty of time to get the camera out again. Oh well...
So, then it was off to a rocky beach where sea turtle sightings are common. Of course just as we hiked out to the beach and I got in position to start shooting, it starting raining. Really pissing down hard. Rats. Back to the big blue Dodge, sprinting actually - I was really getting soaked. After waiting for 10 minutes and seeing the clouds get thicker and thicker, we decided to call it a day and head back, hoping that on the way, maybe the sun would show itself again. Nope, that was it for the day. So there you have it... eight measly photos, a short video and way too much text again. Bye for now...
Day 17 - Waimea Canyon & Spouting Horn
(June 24, 2008)

Waimea Canyon, perpetually in clouds?
Long days and no time to write! Another brief blog entry only. Today we drove up to Waimea Canyon and apparently were extremely lucky: no haze or clouds down in the canyon and we had a beautifully clear view. This is somewhat rare and indeed, 20 years ago when my mother and father visited Kauai, for their six day stay on the island they never had a single clear day with any sort of view of the canyon. Waimea Canyon was always totally socked in with clouds and pouring rain. Here are the photos from today:
Photo Gallery: Day 17 - Waimea Canyon & Spouting Horn
After Waimea Canyon, we drove back down to the coast and visited Spouting Horn, a seaside lava tube that fountains up a plume of seawater when the waves hit it right. The last two photos in today's blog gallery are there.
Today I did some time-lapse photography: here is a link to an infrared sequence in Waimea Canyon...
Video (1.2 MB): Waimea IR Time-Lapse
I also did some 6.5 fps sequences at the Spouting Horn and stitched those together into a movie as well:
Video (1.8MB): Spouting Horn Action
I captured some actual video with sound and I will update my blog entry with that - I promise! Yes I know... I still need to update yesterday's entry. Soon... really... (okay, yesterday has been updated)
Day 16 - Northern Kauai
(June 23, 2008) - updated!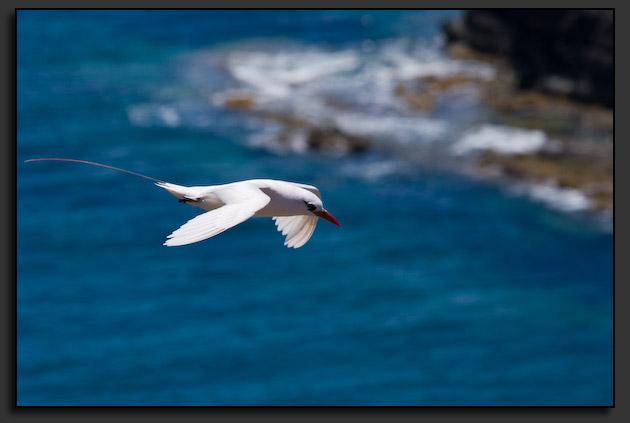 Tropicbird in flight
Keeping it real short for now! Have to get up super early to try and make it to Waimea Canyon before it clouds over tomorrow. Had a great day of shooting birds in flight along the north coast of Kauai. Will update this entry with more info tomorrow. For now, here are the photos...

Photo Gallery: Day 16 - Northern Kauai
Update: okay... now for some descriptions. The park we were at, where I photographed all the birds, was Kilauea Point National Wildlife Refuge. Lots of Tropicbirds soaring around, plus the endangered Newell's Shearwater, Red-Footed Boobies (I caught one scratching itself in mid-flight), Frigatebirds and Albatrosses. I succumbed to the tempation of really vivid colour and used a polarizing filter for most of the landscape photos today. Not for the birds-in-flight though as I need as much shutter speed as I can get. I must say, my Canon EOS-40D performed very well with probably 80% of the bird shots razor sharp - much better than my old 30D managed. Today was the first time I really used my 40D for flying bird photos. You can also see the contrast of the old rusting decommissioned Kilauea Point lighthouse with the new-fangled minimalistic "open-air" lighthouse with a fancy, highly polished mirror optic. High-tech, but certainly not as impressive as the massive fresnel glass lens on the old lighthouse!
Later in the day, we drove as far north as possible on Kauai. There are some shots of a huge sea-cave, the Maniniholo Dry Cave plus an IR shot and some treacherous roots about a mile along the Napali Coast trail.
Day 15 - Flight to Kauai
(June 22, 2008)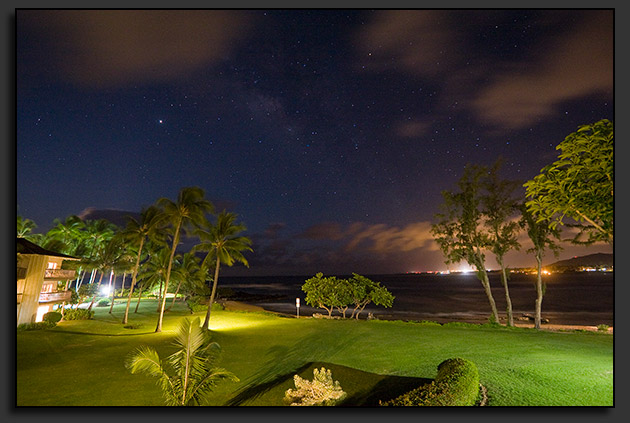 View from the hotel in Kauai - starry skies!
Today we flew out of Kona, on to Honolulu and then a connecting flight to Lihue. The gallery has a few shots from the flight, with a few taken at the Honolulu airport terminal. The last two are the views from our lanai (balcony)... and what a view it is! Beautiful little beach, star-filled skies at night. The lights off in the distance are Lihue. Rather that falling asleep listening to hogs, scooters or subwoofers roaring, whining or thumping by (my room in Kona was fairly noisy) all I hear now is the constance murmur of the surf...
Photo Gallery: Day 15 - Flight to Kauai
Tomorrow we may try to drive up to Waimea Canyon already...
Day 14 - Laundry and Crabs
(June 21, 2008)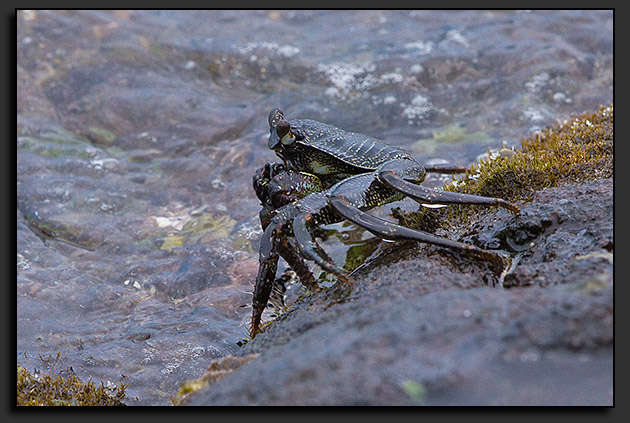 (Guess what this is...)
Another short one today. Had to do laundry and the weather was overcast and gray, virtually all day. All I managed, while my clothes were running through the dryer, was to head out to the beach in front of the Kona Bali Kai (where we stayed for the two weeks) and photograph some very acrobatic (and skittish) crabs. I've never seen crabs leap from rock to rock the way these guys did! I had to carefully stalk them, moving very slowly, so I could get close enough for a shot, even with my zoom. Sorry, but that be it for today...
Photo Gallery: Day 14 - Crabs
What the heck the thing is in the last photo, I don't know? Will have to look it up! So today was the last day on the Big Island. Tomorrow it is off to Kauai for one more week before leaving the warm and humid to return to the cold and humid. Hard to believe the holiday is two thirds over already! Too bad the weather so infrequently cooperated - hopefully our luck will be better on Kauai...
Day 13 - Mauna Kea
(June 20, 2008)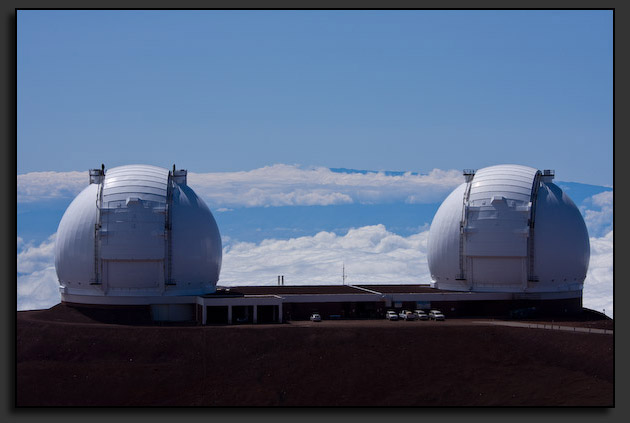 The twin W.M. Keck telescopes as seen from 13,796 feet
Today, my father and I drove to the summit of Mauna Kea. My aunt was not feeling well and decided to stay behind in the hotel to recuperate. We stopped at the visitors centre, which is at 9,200 feet, to spend a little time acclimatizing to the altitude, then the final gruelling drive up to the summit, nearly 14,000 feet up. Driving from sea-level to that sort of altitude in a matter of a couple of hours is a recipe for altitude sickness and indeed, my father suffered the effects. He was dizzy and tired and feeling a little disoriented after being that high for an hour or so, so I hastily did my photography and we were on our way back down. I would have loved to stay a little longer and do some time-lapse shots of the clouds and even stay for sunset, but his health is far more important than my photos, so we cut short our stay unfortunately.
Photo Gallery: Day 13 - Mauna Kea
There was a brief break in the clouds where one could see the north-west coast of the Big Island, but overall the scenery lower down was obscured by clouds. The first shot in the gallery is Mauna Kea from below that morning - we were worried even the summit would be clouded in, but mostly it was clear and above the clouds. They have 89% clear nights each year for observing! I did a 360 degree panorama, from the summit, that I am intending to stitch together into a QTVR - I will update this blog entry when that is done.
After driving back down, we stopped for a sunset at the coast. Although it was quite clear, yet again we did not see the sun sinking behind the ocean - foiled by a few clouds on the horizon again.
Day 12 - More Lava Formations
(June 19, 2008)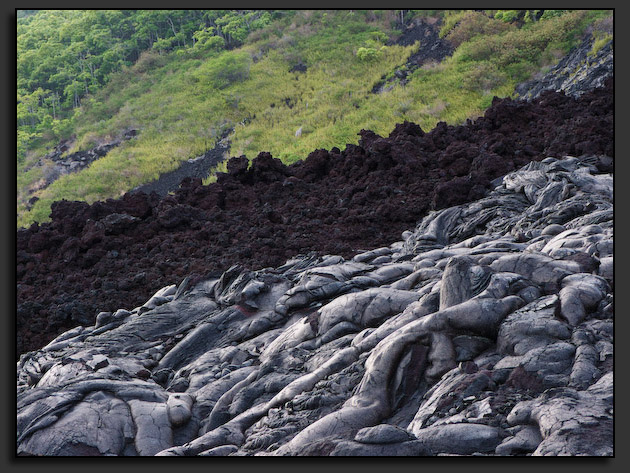 Gray Pahoehoe lava, reddish A`a lava, and green... trees
Photo Gallery: Day 12 - Lava Formations
Keeping this short today, for a change! Found the donut shop (bakery) east of the South Point road today - yay! Excellent donuts, lots of cute begging birds (that probably are not on all that healthy a diet) and an amazing smell of baking when one walks in. After, we drove up to Volcanoes Park and wandered through a Kipuka, then drove back down the Chain of Craters Road until stopping at a very interesting set of lava flows. A'a flowing over Pahoehoe, and Pahoehoe flowing over A`a. Some very interesting contrasts on the two distinct types of lava flows. At the end, my eye caught a glint of colour on tiny broken off piece of Pahoehoe and after a few really close macro shots at an awkward angle (see last photo) I managed to capture what almost looks like a bunch of gem stones glinting within the lava. An amazing sight in a large field of gray!
Tomorrow it is off to the top of Mauna Kea! Renting a 4-wheel drive to get up there - $125 per day for the 4x4 versus over $500 for a tour for three people... and the tour only stops at the top for 30 minutes, scarely enough time to take any photos!
Day 11 - Quiet secluded green-sand beach... what?
(June 18, 2008)

A mere 5 km hike, and you expect seclusion?
Okay, so after a whole day of sleeping and lounging around the hotel room, bonding with my Tylenol and Kleenex boxes, I decided that cold or no, I need to get out - I am in Hawaii and the weather is beautiful! Luckily after a whole day of rest I did indeed feel better in the morning. Popped a couple of extra strength Tylenol, had a few cups of coffee and I was ready to go! So, today it was off to the South-Point of the Big Island, the furthest point south in the U.S., less than 19 degrees North latitude. There is an amazing green sand beach, where the ocean has eroded away cliffs rich in olivine, a greenish mineral. There is a rough 4x4 road leading to it, but apparently most people do the 5 km hike.
So my dad, my aunt and I started off and I figured that with 30 lbs of camera gear and recovering from a severe sinus cold, they could maybe keep up with me. Oh well, um... maybe not. Okay, so I said I would hike ahead and meet them there - I figured I'd be taking so many photos, they'd eventually catch up. So... much to my surprise, when I get there, well, there they are already! The crafty beggars hitched a ride with a friendly local in a 4x4!
So, that was actually surprise number two. Surprise number one was just how busy this "secluded" beach was! Unbelieveable, but there was this huge horde of bikini and bathing suit clad people screaming and splashing in the gigantic waves that were roaring into the beach. Okay, so maybe "huge horde" is an exaggeration (large group?) and some of the young women were really quite attractive but damn... so much for nice pristine-green-sand-beach photos. Okay, maybe the next wave will be really big and pull all the people out and away from the beach... come on, come on... rats. Okay another one... here we go, here we go... nope. Damn.
Alright, yes I know... that wasn't very likely and well, a little evil-minded too, I suppose. Did I mention how lousy I felt yesterday...?
Anyway, I had to wait out all these people and finally, after about an hour-and-a-half, most of the crowd had left and I pretty much had the beach to myself. After only a few shots, a serious downpour started and, well, that was it for "pristine" beach photos - bummer. Since my father and aunt had already hitched a ride again and left, I figured I better get started and hiked the 5km back (I was offered a ride, but I turned it down - really needed the exercise!) and boy was I a dusty, sandy, dirty mess when I finally got to the car. I ended up washing my legs and sandals in the ocean (yes, 10 km in sandals!) to get all, well most, of the caked on dust and sand off. Back to the hotel for a much-needed shower and now I feel like a human again. Oh right... almost forgot the photos! Here you go, a few from day-before-yesterday (as promised) and the ones from today:
Photo Gallery: Day 9 & 11 - Kona Beach Sunset and Green Sand Beach
So if my dad is feeling okay tomorrow (argh, he just called and said his sinuses are giving him problems too), we will be off south again to the black-sand beach (no hike required) and then up to a Kipuka on the top of Kilauea, an island of trees spared by the lava flows where birds tend to congregate. Maybe another side trip to take some more detail shots of lava flows too...
Day 10 - Don't talk to me about day 10...
(June 17, 2008)

My companions today...
The above photo -the one and only one from today- says it all. Ugh. Have not been sick like this for many years. Sinus pain, congested, headache, sore throat - actually, you can just read off the symptoms from the Tylenol box - all those and more. I sent my father and aunt away on their own today after they picked up a few supplies for me - drugs, OJ, some bread, some yogurt, Kleenex. Trying to recover quickly to not ruin more of the trip. Slept a lot today... in between the phone-calls promising that this was the last notification (I wish!) that my car's warranty had expired, but that I was still eligible to buy an extended warranty. "Press (1) now to be connected to a warranty specialist..." After the third call like that in less than two hours I indeed pressed (1), hoping I could give someone shit and tell them to quit calling a bloody hotel room! Failed in that however - I let it ring for 10 minutes on speaker-phone but nobody answered.
The bad news is that this morning, my dad said he had a sore throat too. That is how I started...
Crossing my fingers that tomorrow will bring a real photo gallery again.
Day 9 - Beach Sunset
(June 16, 2008)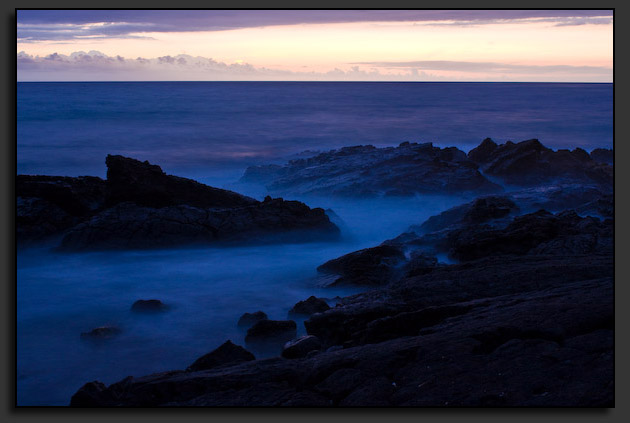 A Kona beach after sunset
Today I am going to defer the day's images to tomorrow's gallery. We got a fairly late start and after doing some shopping, I was feeling under the weather - not to mention it was overcast and raining too. With a sore-throat and a lack of energy, we decided I should get some rest and retired to our rooms. I managed to get a few hours of afternoon sleep and after getting up again at 4pm, we decided to head out. Luckily just north of Kailua, the clouds broke near the horizon and I managed to take a few shots near sunset where the sun actually was showing! Alas, right at the horizon there was another cloud bank so it was really only a few minutes worth of light in the end. Getting bored with the normal shots, I decided to throw an ND filter on my camera and do a few time exposures to get that slight "misty" or "foggy" effect (see above image).
Hopefully after a good night's sleep, I will be feeling better tomorrow as the plan is to try for the south point again. Gotta find that donut shop too! If we are feeling up to it and the weather is decent, we may try to hike to the green sand beach. Watch for a handful of images from tonight's sunset in tomorrow's gallery...
Day 8 - Ash Scattering and Memorial
(June 15, 2008)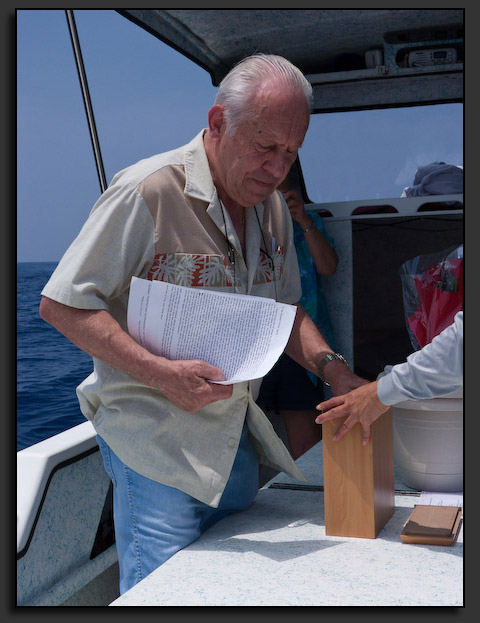 On the boat with the scattering urn
Today was the day that we ultimately came to Hawaii for, to honour my mother's wishes to have her ashes scattered off the Kona coast, specifically off the little fishing village of Milolii. Jessie's husband Harry, was very kind and brought his boat down from up the coast to meet us there on Sunday morning. We went about a mile and a half offshore and there we performed my mother's final wish. It was an emotional time but it was good since it gave closure as well. In the above photo, my dad just took the lid off the scattering urn and was going to have Jessie read a few words. We were concerned that the plastic bag the ashes were in would slide out of the urn so decided to take it out and hold it. It did not make for as nice a series of photos, but at least there was no danger of the bag falling in the water before all the ashes were scattered. Here is the gallery from yesterday and today...
Photo Gallery: Day 7 & 8 - Rose Planting & Ash Scattering
Once the ashes were scattered my father and I threw in two 'Ingrid' rose blooms that my father brought with him from Canada a week ago. They were kept in the fridge to prevent them from opening all the way and were in perfect shape for today's task. My dad had also bought a dozen red roses locally, to follow the two blooms he brought from Canada. After we circled the site for ten minutes or so, where I took photos of the roses floating in the water, we finally headed back to shore.
Once we were back on shore, my father realized that he forgot a little tiny potted 'Ingrid' rose bush that he was going to also throw in the ocean along with the cut flowers so instead, he walked out on the rugged coastline and flung it into the water there.
On the Big Island (maybe on the others as well?), there seems to be a tradition of writing graffiti on black lava, but not with spray paint. Rather, people use the abundant white coral gathered from the beaches to write their messages in the lava. My father had the idea of making a simple memorial to my mother and had been collecting coral for the last few days. My aunt's idea was to put the memorial close to Milolii and so we chose a spot that already had some coral writing in place. My father and aunt did the coral placement and I was down at the road coaching them along... "No, a little more down - wait no - too far... that's perfect! No no, honestly the 'i' is too long! It looks fine from here with only four rocks - really!" and so it went for about two hours. It was a difficult task since when you were up on the hill, you could not really comprehend how it looked from the road. In the gallery, you can see the view from the road of the finished memorial and then the view from above to see what I mean!
So that was the day. Then an early drive back to the hotel after which I sat on the beach watching the waves, waiting in vain for the sun to show before sunset, which it never did - just another gray overcast sunset with no colour whatsoever. Oh well, we still have two weeks left - hopefully I'll catch a sunset at some point!
Day 7 - Visiting Jessie
(June 14, 2008)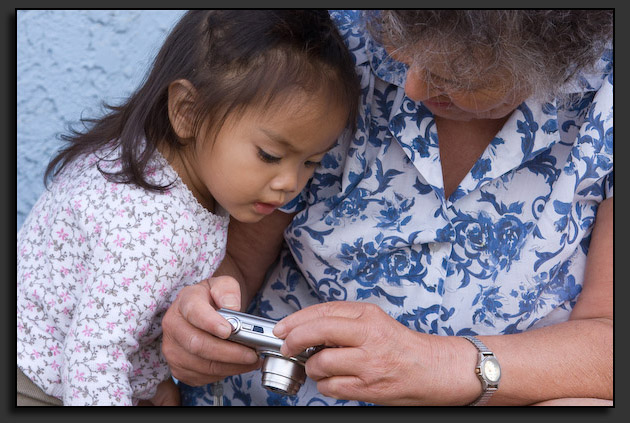 Looking at herself on my aunt's digital camera
Today was very relaxed with little to show in the way of photos. I will roll them in tomorrow's upcoming gallery. After a morning of sleeping in, recovering from the long day yesterday, we tooled around Kailua for the day and then headed up to Waimea to visit our friend Jessie. The plan was to plant three of my father's 'Ingrid' roses (a new rose variety that he named after my mom) and then have dinner. During the planting, my aunt had lots of fun taking photos of Jessie's photogenic and charming grandchildren. Above, the 18 month old girl loves to look at herself on the camera's LCD display!
Tomorrow it is off to Milolii to finally scatter my mother's ashes in the Pacific. I will likely have some shots from the boat...
Day 6 - Mr. Lava, meet Mr. Ocean
(June 13, 2008)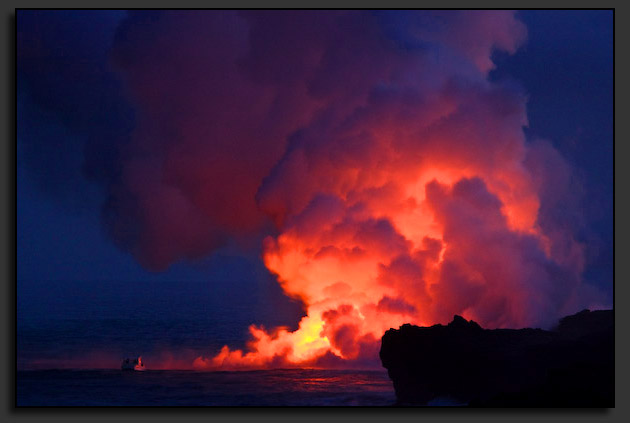 Crazy boater watching lava entering the sea
I am going to start out backwards on this blog entry since the highlight of the day was definitely at the end! On the south-eastern part of the Big Island, there is a spot where the lava drains into the sea. On a previous day, you saw the great steam cloud from a distance in my photo gallery... but during the day. Today, we went to the opposite side of the huge lava flow that has covered the southern-most road since one can get a lot closer to the actual lave-tube. What a sight to behold! Foaming, frothing seas glowing cherry red from the liquid lava draining into the ocean. Not to mention an insane boater barely skirting disaster from, at the most, only a few hundred yards away! Of course, given the opportunity, I'd probably be out on that boat too! Every photo is so different that I have included a fair number - too hard to pick a favorite...
Photo Gallery: Day 6 - Mr. Lava, meet Mr. Ocean
Ealier in the day, we drove the long route through Waimea, then along the north coast, on through Hilo and then south to the lava flow. Although it was only about 260 miles to drive altogether, it felt longer due to the slow traffic and twisty, winding roads. On the way, we stopped at Akaka Falls and a few spots on the old highway along the north coast. Finally, the sun made a convincing showing and I had to put suntan lotion on the tops of my feet! I should have put some on the back of my neck too... sporting an "almost burn" there now.
We decided to drive south, via the north - smart right? Actually, it is closer getting south of Hilo by going around the north part of the island, however that meant no donuts today. Bummer...
Day 5 - North Coast
(June 12, 2008)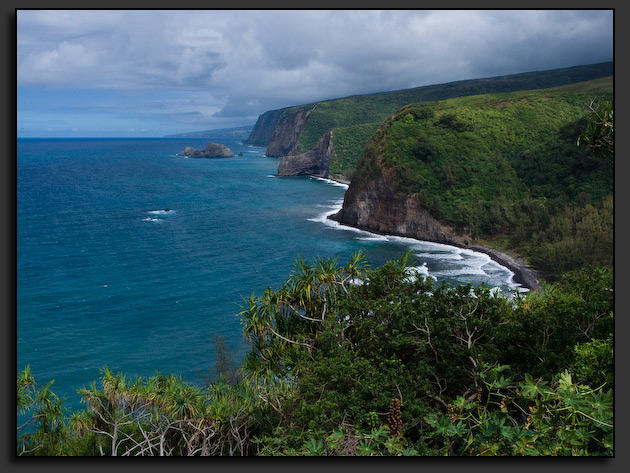 North Coast - Pololu Valley Lookout
Today was a drive up north again, with the hopes that the weather was better than the first time we tried. That morning, in Kailua, things did not seem promising - misty with drizzle. I wasn't holding out all that much hope. However, once we got part way north, the clouds broke and the weather turned beautiful! Later in the the day, there were just enough clouds floating around to make photos interesting. At the furthest point one can drive to on the north coast, when approaching from the west, Pololu valley and the sculpted shoreline of this part of the north coast were stunning. On the top photo, Pololu Valley would be the first valley looking to the right - in my gallery there is an IR shot up the valley:
Photo Gallery: Day 5 - North Coast
Despite the gorgeous weather and breathtaking views, I was surprised how small today's gallery was. I hiked about four fifths of the way down to the beach (visisble to right of the above photo) but started getting worried as I did not let my father and aunt know what I was up to. Once the views started getting worse again, as the trail zagged back inland, I decided to turn around and hoof it back up. After jogging about half way up with all my camera gear, I decided enough was enough and just walked up the rest of the way. Not in very good shape right now! Once I was back up at the top of the steep trail (probably had descended about 600 feet, maybe more), I was sweaty and tired in the humid air. Luckily I was not missed yet, but my father had just started wondering where I had got to...
On the way back south, we stopped off at Kauhola Point to watch the waves rolling in. That was about it. From there it was a drive through rolling hills, clouds and rain again as we made our way to Waimea for a bite to eat. We stopped off at a restaurant and had the "pleasure" of witnessing a mighty fight between the cook and a waitress. They were screaming at each other at the top of their lungs for a good 15 minutes or so! Even though they were well in the back of the restaurant, their argument was painfully obvious to all the guests. Oh well, at least there were no smashing dishes and the waitress eventually stomped out and things quieted down again. Other than that, the food was good...
We decided to drive back to Kailua along the coast, just in time for sunset, but alas, clouds and rain once again. The sun peaked through the clouds briefly at sunset but overall, things were just gray again. At this rate, I'm not sure if I'll ever get a nice sunrise or sunset on this trip! As I was sitting in my room in the evening, working on the day's images, it was pouring rain outside again. Update: just about to upload this to my blog this morning and today the weather looks beautiful! Now off to the south point - black sand beach, a world-famous (apparently) bakery with exquisite donuts and then through Hilo to approach the lava flow from the east this evening to try and get some volcano action photos...
Day 4 - Hawaii Volcanoes National Park
(June 11, 2008)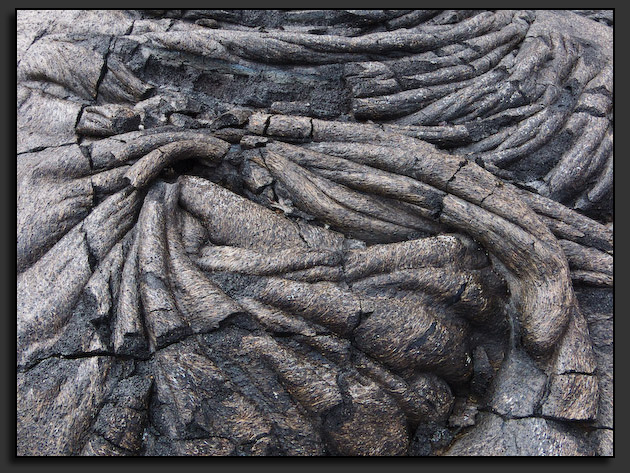 Pahoehoe Lava Flow
Well today brought a few minutes of sunshine while we were on the south coast, watching the gigantic gout of steam where Kilauea's latest lava tube is draining into the Pacific - watching the island grow in real-time! Click on the image above or on the following link for the latest gallery, showing the massive steam plume:
Photo Gallery: Day 4 - Hawaii Volcanoes National Park
In the next week or so, we plan on driving around to the other side of the lava flow, where one can get closer to the action. Hopefully I will get some night shots, showing the lava entering the sea! Up on top of Kilauea and down most of its 4000 foot flanks, the island was again enshrouded in mist and clouds, however once we got near the ocean, there was blue sky visible with patchy sunshine. Driving down the Chain-of-Craters road in Hawaii Volcanoes National Park, we stopped a few times and photographed some amazing Pahoehoe lava flows with all sorts of fascinating shapes and textures. Near the end of the day, we were rewarded with a rainbow out over the ocean, seemingly floating there with no cause - it did not appear to be raining but there must have been rain, water droplets or at least some mist for the rainbow to form.
I am finally starting to tan... on the tops of my feet. My feet are traditionally encased in heavy hiking boots on my trips to the Southwest (cactus, scorpions, snakes) and have not seen sandals in many many years. The skin on my feet is in shock I think, seeing sun for the first time in a very long time, so it is tanning far sooner than the rest of me. If we actually had full sun here, I am sure my feet would be lobster red by now...
Hiking around the sharp `A`a lava flows in sandals was a recipe for disaster I thought, but my new Merrel sandals are working beautifully. A proper footbed, adjustable straps and a Vibram sole means I am almost as sure-footed as in proper boots - minus the ankle-support of course. As long as I am careful how I step, I should be able to avoid cutting my feet to ribbons! The toes of the sandals are starting to abrade though, so I am not sure how they will look when the trip is done...
Day 3 - Kona Coast
(June 10, 2008)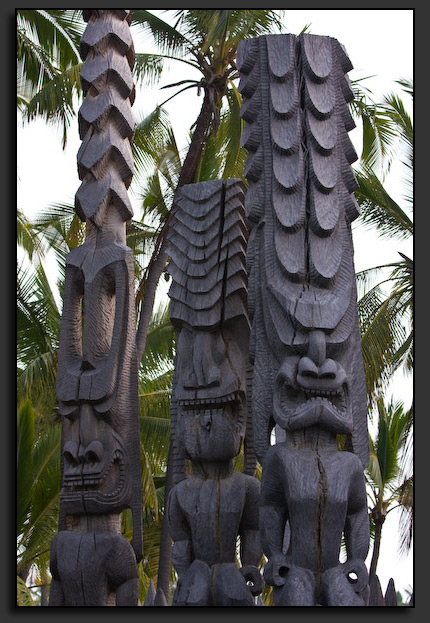 Pu'uhonua O Honaunau National Historical Park
More mist, more clouds and virtually no sun. Yet another day of putting off cracking open the suntan lotion. Apparently since Kilauea has now sprouted a second erupting vent, all the fine particulates in the air around the Big Island are causing water to condense out of the very humid and saturated air here, forming clouds and mists. Despite driving almost to the southern most point on Hawaii, the clouds did not really dissipate anywhere along the way. The sun made a brief and very filtered appearance at sunset, but most of the day it did not show itself. As I am writing this blog, it is once again raining quite hard outside. This part of the Big Island is supposed to be dry! Here is the scant collection of the day's photos:
Photo Gallery: Day 3 - Kona Coast
We visited the little village of Milolii which is where we are going (off the coast) to scatter my mother's ashes this coming Sunday. After driving part way back to Kailua, we spent the rest of the day, until sunset, at Pu'uhonua O Honaunau National Historical Park. Oh yes, and part way through the day we almost picked up a little hitchhiker, a very colourful little gecko, which decided to try and hide on the inside of our car door. It posed for a bunch of photos before deciding it had enough of all the attention and scooted off. Tomorrow we try the south point again, either trying for the green sand beach or further on to Hawaii Volcanoes National Park.
Day 2 - Kona Coast
(June 9, 2008)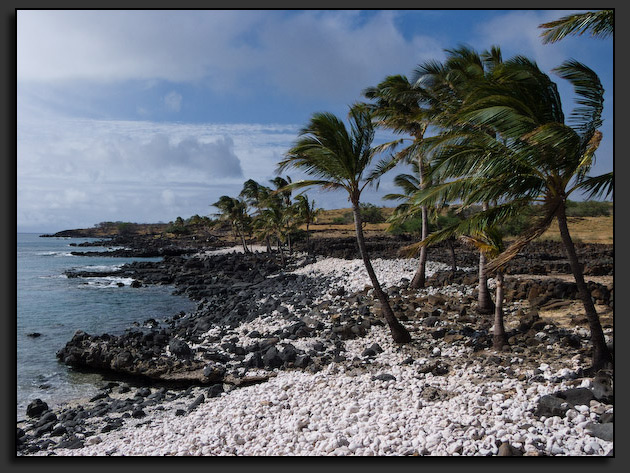 A Kona beach - white coral, black lava and palms
After a not very relaxing night getting used to the humidity, and an early morning with heavy rains and a garbage truck making a huge racket, day 2 saw us driving up north to meet a close family friend at a the Hapuna Beach Prince resort, where she works. We made plans with her to take her husband's boat out off the coast and scatter my mother's ashes next Sunday. She bought us an amazingly good lunch at the golf club's restaurant at the resort - there is one photo of her with the father and aunt. Oh, and before I say much more, here is a link again to the day's gallery where the first 8 shots are from the day 1 plane trip down...
Photo Gallery: Day 1 & 2 - Flight and the Kona Coast
The day was quite cloudy and we did not see sun until well into the afternoon. After lunch with Jessie, we took it easy and drove up to the north coast. We did not spend much time there are there were thick clouds and torrential rain showers. One shot shows a mist enshrouded coast during a brief lapse in the heavy rains. Driving back south again to find better weather we took a detour to look at a "wind farm" and then we briefly wandered a white sand beach - not many photo ops there... too many tourists! After, we happened upon an interesting historical site, Lapakahi State Historical Park, with some old native Hawaiian huts and structures. Beautiful scenery there - lava, coral, swaying palms, blue ocean and fluffy white clouds. After photographing some interesting lava formations near sunset, there was a sudden break in the clouds over Mauna Kea and I snapped a shot of the observatory domes at the 14,000 foot summit - the last frame in the gallery.
Day 1 - Flight
(June 8, 2008)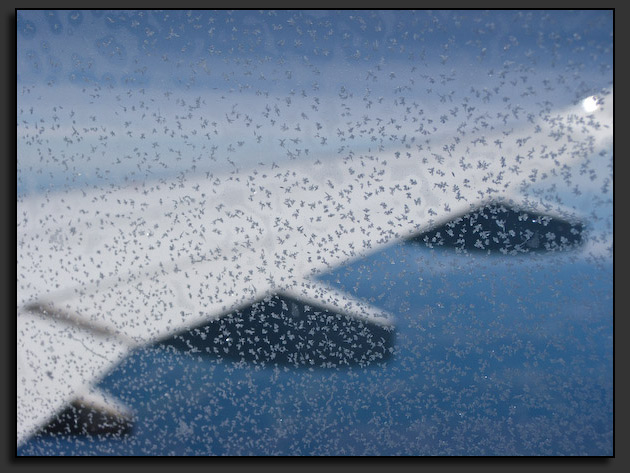 Ice crystals on the inside of the plane's windows

The flight from Vancouver to San Fran was uneventful, smooth and on time - not much to say there. However, flying out of San Francisco proved to be a little more "interesting". First there was a delay as the plane's hydraulics had to be "topped up". Well, that turned out to be wishful thinking as further issues were found. After the mechanics clunked and clanked around the outside of the plane for a little while, the problem was deemed to be fixed. Then the pilot has to wait for the proper paperwork to get transmitted back. When we thought the time for take-off was finally close, suddenly a passenger was found to be ill and had to be de-planed. Finally, after an hour of delays, we were ready to go! Whew... it was getting hot in the plane, sitting on the tarmac in sunny San Francisco!
The flight down to California presented a few photo opps, a view of the wing against the background scenery, some macro shots of ice-crystals forming on the inside of the window, and a few interesting views at the airports - were those just fluorescent lights... or an attempt at art? Here is the gallery from the first two days, with the first eight shots being from day one and the rest from day two...
Photo Gallery: Day 1 & 2 - Flight and the Kona Coast
After a long 21 hour day of traveling, I did not feel like starting the blog, so here we have the update after day 2 - sorry!